As soon as I saw the Running Warehouse blog entry titled
9.1 Reasons You Need a Garmin Forerunner 910XT
, I was sold, and I bought one immediately.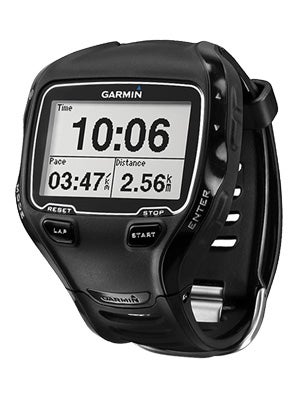 Some would say, "But it's so expensive." And some would say, "But do you need all those features if you aren't a triathlete."
Well, I don't routinely buy a bunch of running outfits like other friends. I'm a very practical runner and will wear and rewear the same set of 5 running tops because I know they won't chafe and will keep me cool or warm exactly as needed. So it's an easier thing to budget money for this. And if I use it for just one year, that's maybe 1200 miles this year, so that's 33 cents per mile. Easy decision.
Here's what I loved in the write-up, and what I have further confirmed that I love now that I've gotten to use it 2 times since it arrived in the mail.
It has a 20 hour battery life.
My Forerunner 405 would only last about 7 1/2 hours into a 50K, which takes me about 8 1/2 hours to run. And someday I may move from the 50K to the 50 Mile, so having a 305 with a 12 hour battery life would not be enough for my 50 mile time based on my pace. So I wanted something that would grow with whatever my eventual goals were.
Location and design of buttons is awesome. I am a left-hander, and Garmin people did not consider left-handers in my opinion when they designed my 405. It's awkward to hold down the lap button on the side and press the Enter/Start/Stop button with another finger. And the touch bezel was just annoying and, while I don't consider myself a heavy sweater, you put us in any humidity at all and Texas summer heat, and it would get "wonky" and on the fritz 10 miles into a run! So I was so done with touch screens. These new buttons are so easy to use, and it's no longer a pain to switch data screens right in the middle of running.
So...Much...Data! Yes, I have a math degree, and I'm very analytical. The more data the better, for me. With the 405, I could only have 3 data fields per screen and 3 total screens. But with the new 910XT, I could customize up to 4 fields on each of 4 screens! I have fields for things that seem silly but I'm loving. I set up mine as follows:
SCREEN 1 - Lap Pace, Lap Time, Lap Distance. SCREEN 2 - Avg Pace, Total Time, Total Distance. SCREEN 3 - Time of Day, Sunrise, Sunset. (Because when you can show this many fields, why not?) SCREEN 4 - Total Ascent, Total Descent, HR, Calories.
Increased Elevation Accuracy. Since running 50Ks is my current love, and I seem to be picking some hilly ones, and might be increasingly doing that, I think this is an important feature. Best explained by Running Warehouse's blog entry: "

For real-time, highly accurate elevation data, a barometric altimeter leaves GPS measurement in the dust. GPS can get pretty inaccurate in mountainous terrain – the barometric altimeter is ideal for ultra runners who want to know exactly where they are on a climb or descent, along with their total elevation gain and loss.

"
Great fit! The new 910XT is sleek and thinner, the notches on the strap are well done. It's just a comfier fit!
So yes, I can totally recommend the Garmin Forerunner 910XT. Now if your pocketbook just won't allow it, I will say I have many friends with the 310XT that they love as well!
What do you love or hate most about your GPS device?